Swissbit

- Headquartered in Bronschhofen, Switzerland, Swissbit AG is the largest independent DRAM module and Flash storage manufacturer in Europe. Swissbit is a global leader in technology supplying High Quality Memory solutions to the Industrial, Embedded, Telecommunications, Military, Automotive, and Aerospace markets. Swissbit was created from a management buy-out from Siemens Memory Products in 2001 and has over 18 years of combined knowledge and experience in the memory industry. Our commitment to high quality, reliability, exceptional customer service, and competitive pricing is what enables our customers and partners to enjoy a constant source of supply and product commitment for their past, current, and future requirements.
Memory & Storage Solutions
Swissbit's memory and storage solutions are tailored to optimize the performance and lifetime of industrial applications. Learn More
Solid State Memory
Swissbit offers industrial grade solid state memory products that feature advanced security, high MLC endurance and sustained performance. Learn More
SATA Gen 3 SSDs
Publish Date: 2017-05-30
This presentation will review the benefits of the Swissbit durabit SSDs and highlight what differentiates them from standard MLC products.
Duration: 15 minutes
SSD Total Cost of Ownership
Publish Date: 2014-07-28
Achieving a low TCO for customers in industrial applications by providing fewer product generation PCN's, resulting in fewer re-qualifications.
Duration: 5 minutes
HDD to SSD Migration in Embedded Systems
Publish Date: 2014-01-09
Learn the key differences between HDD's and SSD's and why SSD's outpace HDD's in performance and reliability.
Duration: 5 minutes
Small Form Factor SSD's
Publish Date: 2013-10-17
CFAST, mSATA, and Slim SATA provide designers with highly reliable, small form factor, embedded NAND based storage solutions.
Duration: 5 minutes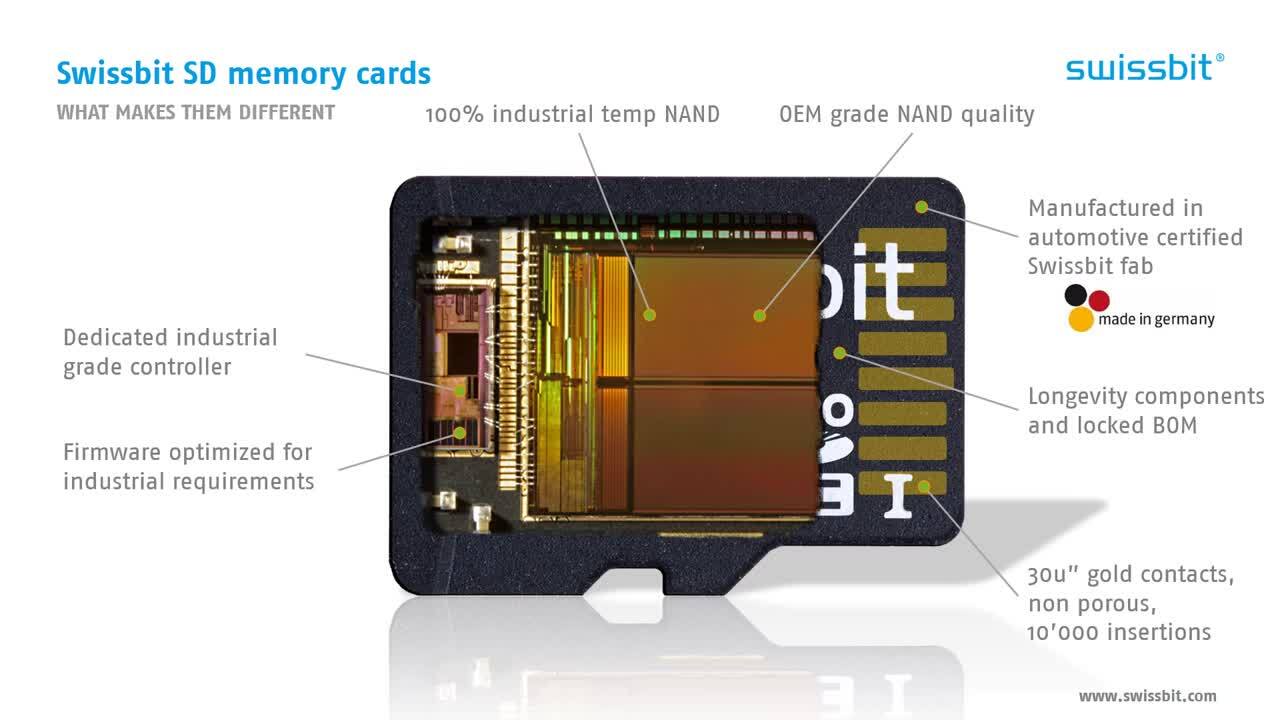 Swissbit Industrial DRAM Modules Overview
This presentation will provide an overview of Swissbit's industrial grade DRAM modules and will discuss the environmental conditions that can have serious effects on systems and memory modules.
Hangout on Air with Digi-Key and Swissbit
Digi-Key is going to be hanging out with Swissbit on Thursday, October 23rd at 10:00am CDT. Digi-Key's Nick Olson will be joined by Grady Lambert from Swissbit to discuss SSD Selection Integration in Embedded Systems.
Swissbit Overview
Swissbit is a global leader in technology supplying high quality memory solutions to the industrial, embedded, telecommunications, military, automotive, and aerospace markets.
Additional Content
Brochures and Catalogs

Application Notes

Fact Sheets

Cross Reference Library

Resources

Press Releases

Documents of Interest

White Papers

Reference Design Library

Datasheets